3 ways to improve your Toastmasters Club educationals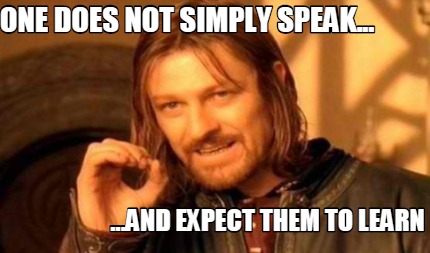 Toastmasters is the ultimate learning organisation. We are self-paced, well scaffolded, and clear about the competencies we develop. Not only are we on individual learning paths, but we experience extra educationals in our club. Sounds great, right?
BUT let's be honest: we've all sat through well-meaning 15 minute educationals that haven't resulted in any meaningful improvement. Whether it's to help people develop their Vocal Variety (Better Speaker Series), to improve the Evaluations in your club (Successful Club Series), or support club leaders (Leadership Excellence Series), often club educationals fail to hit the mark. So how can we do better?
Recognise the distinct expectations of training
Firstly, speaking ain't training. Toastmasters teaches us to present effectively, and by delivering speech after speech after speech, people often approach educationals the same way – as a speech. Let me be clear: standing up and speaking at an audience for 15 minutes does NOT mean they have learned what you are trying to teach. With a speech, the audience expects to be entertained/inspired or similar. With an educational, the audience expects to learn. So if you entertain them, great – but if they haven't learnt something, you have still failed in your purpose.
How?

Limit your educational to 3 points, and keep supporting information to a minimum

Instead of speaking for 15 minutes, involve your audience with activities to support their learning
Begin with the end in mind
Stephen Covey was right: you need to know where you're going to be able to make sure you get there. Learning is about behaviour change, that's how we know it has taken place. Before you prepare your educational, ask yourself: what is going to change as a result of delivering this educational? In training contexts, we write this as a Learning Outcome. And it should never include words like 'know' or 'understand'! For example, let's say you are training a hospitality worker to close down the kitchen at the end of the shift. You don't want them to know how to clean the benches and equipment – you want them to do it! Here is a handy formula to refer to:
How?

Write Learning Outcomes for the educational before your prepare your session
Focus on your audience
This is something that does translate from speaking to training: know your audience and tailor the educational accordingly. Have you been asked by the VPE to give an educational on evaluations because members are being too nice to each other and most evaluations are missing the point for improvement? Then don't waste time covering every possible Evaluation strategy / skill / pointer: focus on why constructive feedback is important and how to deliver it as a priority, with just 2 other points to bring you to your limit of 3. The Toastmasters educationals are generally strong, but they are designed to work in any one of the 30,000 clubs internationally – you need to make it relevant to your audience. By using your learning outcomes, get people to focus on the actions that matter to them.
How?

Refer to the Toastmasters manual, but tailor it your audience and their needs

Encourage participants to commit to at least one action they will take as a result of experiencing the educational
You can practise these skills and more at Trainers by Design Toastmasters Club! Click on the 'Meetings' tab to visit us, or sign up to our mailing list for notifications.